Zulu Parade
0
It was fabulous, darling, just fabulous. That's how I would sum up the 2017 season. It was a warm Carnival , always preferable to a cold or wet one. When Fat Tuesday falls in late February, like it did this year, warm weather is practically expected. I've always loved Carnival since coming to New Orleans, it has always been my favorite holiday. I alway costume on Fat Tuesday in the colors of Carnival; purple, green, and gold. It's a good look for me. Zulu always responds to a good costume; REX doesn't if the costume mimics their look, which I do. I still do well at Rex, as I'm an enthusiastic parade goer and I've always reported positively and honestly about Rex on this blog, so karma is with me during their parade.
I'm in one of the earliest parades, KdV, Krewe du Vieux. It's the parade most like parades from 100 years ago, which is why I take part. Participating in a parade remains one of the greatest experiences a New Orleanian can experience, and shouldn't be missed. Every time a parade participant meets the eyes of a parade goer asking for a throw, a tiny piece of energy is transferred from parade watcher to parade participant. Over the course of an entire parade, the energy addition for the parade participant is slight but palpable. This boost lasts a day or two.
Handing out throws is the most elegant and fun micro moment repeated throughout the parade. The sheer joy of connecting with a parade goer is really big. Again, when, the parade is over, a parade participant feels the joy of mass giving on a repetitive level over a couple of hours. It's a very happy effect.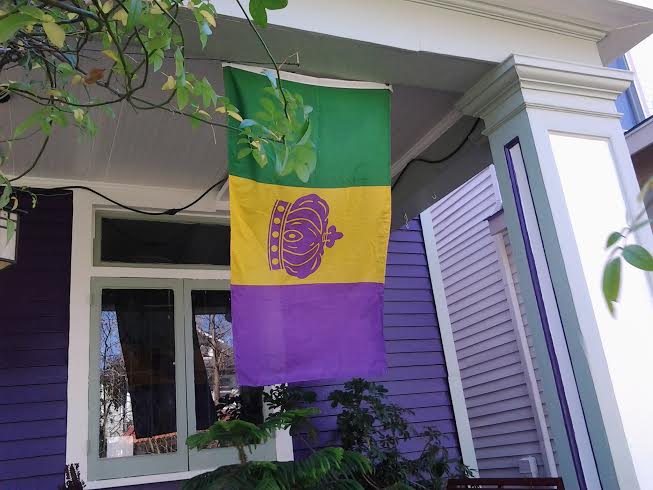 Food wise, Carnival 2017 was a success. We finished up at Theo's Pizza, who make a mean pie. It was delicious, and the wait wasn't that long for Fat Tuesday. For the final 5 days of Carnival, I cooked macaroni and beef and made my wonderful sausage and chicken gumbo. That carried us through the main Carnival weekend with great style and elan. We ate our share of King Cakes and found Gracious King Cakes from the bakery to be stellar but when bought from Whole Foods, had aged considerably and the filling dried up.
Company was stellar. Over Carnival, alcohol flows freely, making parades in general more fun. I was with my girlfriend Sue and my good friend Billy and his friends. We drank every few days and good times ensued with or without booze. We all love the parades, with their bright lights, animals, freshness, music, spectacle, beauty and excitement.
I followed my usual plan, catching Zulu and Rex before hitting the French Quarter. Zulu didn't disappoint. I saw Mayor Landrieu on horseback with his official posse. He looked happy, riding his horse in unison with other dignitaries and NOPD. I caught them at Jackson and Dryades, a traditional spot for me. Bought a drink at a local bar right before the parade and over the next hour I caught 5 coconuts. It was wild and a lot of fun. Zulu looked fierce in the brilliant sunlight. I missed my friend but really had a good time at Zulu 2017.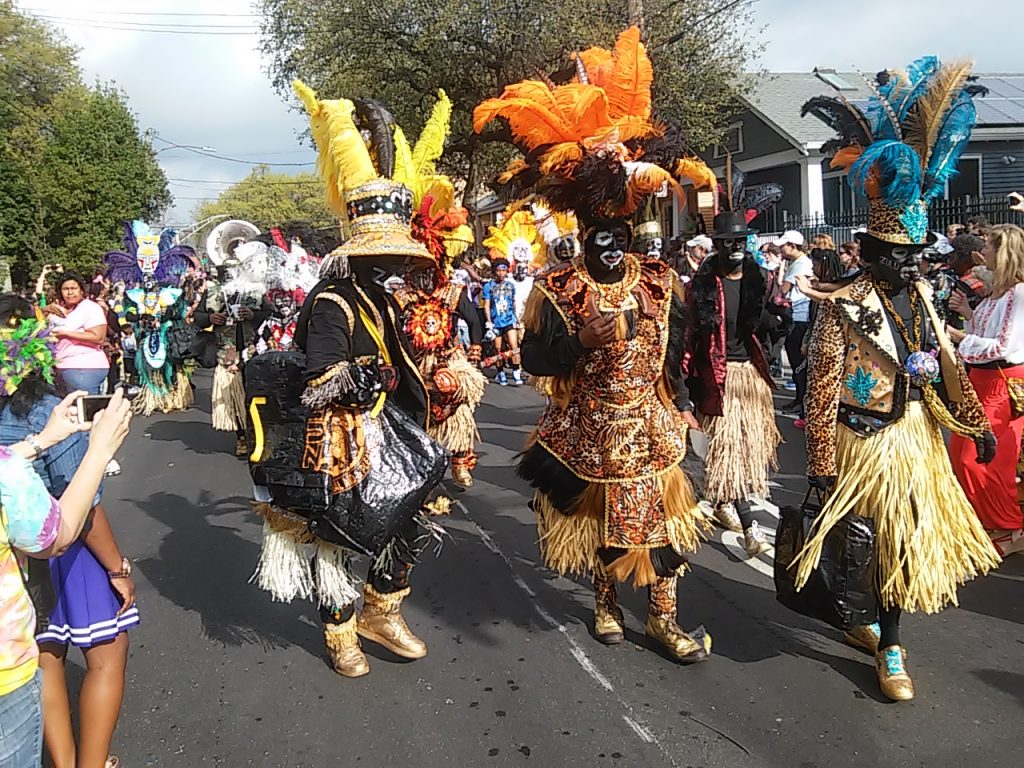 It was on to Rex around 9:30 by foot, and it takes about 20 minutes to walk to Harmony Street. The sights and sounds around me were intensifying as the day wore on. All the revelers on St. Charles, the crowds parked for Rex and the trucks to follow, it was a sight to behold. There really isn't anything remotely similar to St. Charles Avenue on Mardi Gras Day. It's a one of a kind event on a one of kind day.
The crowd around Zulu on Jackson, for Rex on St. Charles and Harmony, and walking toward home in Mid City was cordial and hospitable. New Orleanians celebrate Mardi Gras in their own ways. Some on the parade route, some in the street, some at home with friends and family. I passed many families in the neighborhood around Zulu and Rex BBQing