New Orleans Jazz and Heritage Festival
0
It's a very short Mardi Gras season this year with Fat Tuesday one week from the earliest date (February 3) possible. For 2016, February 9 is early early. That makes KdV early early rolling on Saturday, January 23, 2016 at 6 pm. That's this Saturday and I'm in the parade! What's the 2016 theme for the most ribald krewe of all of Mardi Gras? Krewe du Vieuxxxx is Rated XXX!!
The route has changed again, and there's no doubling back as in most years. We march straight through the Faubourg Marigny and French Quarter, past Canal Street and Poydras, to the Civic Theater, 510 O'Keefe Street.
I'm a long time Escort for the Krewe of Underwear. It's a really fun job, guarding our float and mule and making sure our krewe is moving without any undue delays. Escorts are supposed to do their jobs mostly sober, so if anything goes wrong, you'll have your wits about you. I don't drink booze until the parade is over, making me an ideal Escort.
The KdV Ball has two storied New Orleans bands, George Porter Jr and his Runnin' Pardners and Walter Wolfman Washington. The 2016 Queen of Krewe du Vieux is FUSE reality show star and Bounce legend, Big Freedia. This is shaping up to be a super KdV party!  KdV has three distinct parties on parade day. First is the pre-parade party, complete with beer, food, and live music; next the actual parade, with all the excitement that brings; and finish with their ball, complete with booze, food and more top shelf New Orleans live music. The ball has a down and dirty brass band jam and additional entertainment by the Mystic Ponies Aerial Troupe.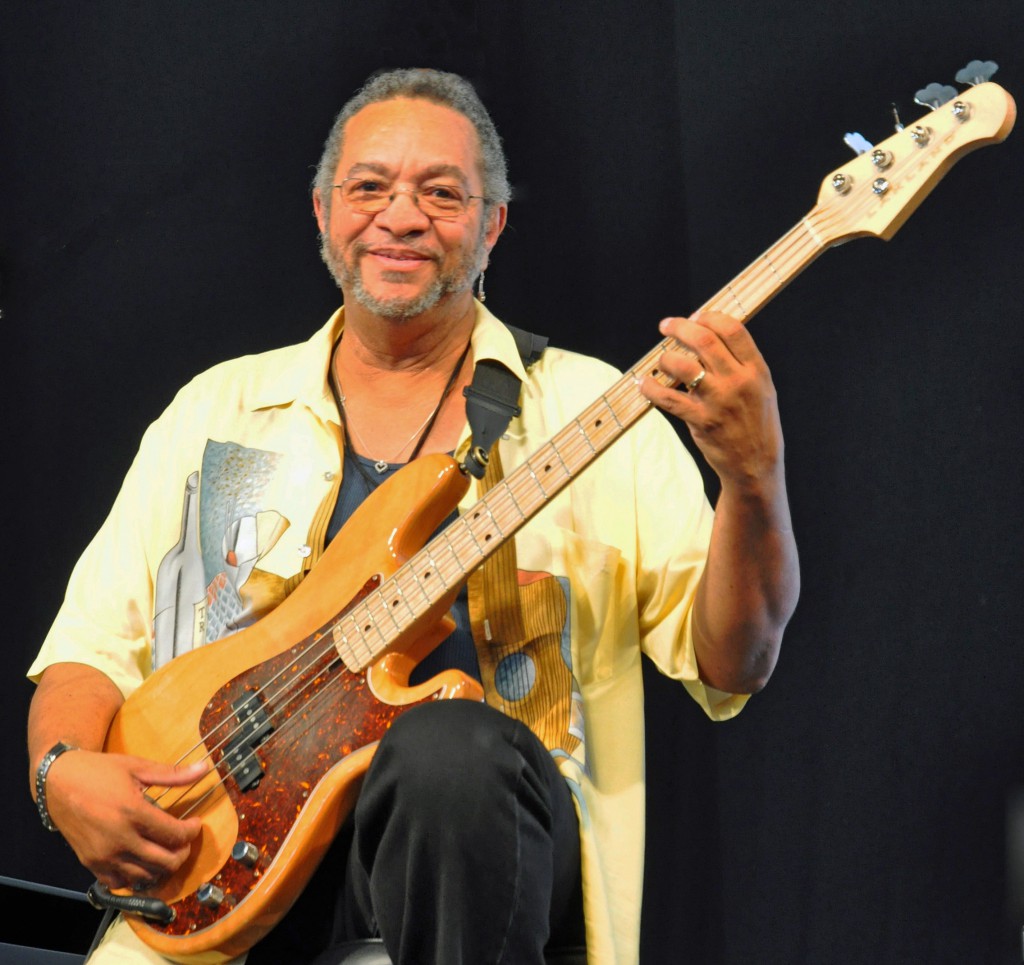 George Porter, Jr
BRASS BAND LIST FOR 2016 KREWE DU VIEUX
Lagniappe
Pinettes
Kinfolk
TBC
New Birth
Jazzmen
Bone Tone
Young Fellaz
Paulin Bros
Baby Boyz Brass Band
Stooges Brass Band
One Mind
Panorama
The Tornados
Free Agents
Treme Brass Band
Egg Yolk Jubilee
Hot Eight Brass band
Down and Dirty
Krewe du Vieux is a very unusual krewe. Members design and build the floats themselves. Members don't ride on the floats, but walk behind the float, handing out throws to the crowd. Over time, KdV amateur float builders gain practical experience and build high quality floats. Mules pull the floats, and sub-krewes design and make their own throws. It's an adults only parade that some parade goers bring their children to. I don't really understand that, if you cannot find a baby sitter, stay home if you have children.