Zulu and Rex Greet Fat Tuesday 2017!!
I was out on Jackson Avenue by 7:30 am on Fat Tuesday. I walked from Claiborne where I was dropped off to Dryades, where I was supposed to meet a friend who didn't make it because he drank too much on Lundi Gras. Zulu was on time around 8 am and reached me by 8:30 on Jackson and Daneel. I had 5 coconuts by 9 am, and was walking to Rex at Harmony and St. Charles at 9:30. My good friend Billy Bonsack lives a block off St. Charles on Prytania and Harmony. I see a lot of parades during the season since Billy's house is a block off the St. Charles route. Super convenient and makes parading a lot more comfortable.
It was a really warm Carnival season, and Mardi Gras day didn't fail us. It was 70+ degrees when I hit the streets yesterday, and it only got warmer. I was dressed in a warm weather version of my purple, green and gold outfit, but I was still warm throughout the day.
Even though my basic Fat Tuesday routine doesn't change much, there are always new wrinkles and fresh sights and sounds that can't be missed. I started the season marching in the Krewe du Vieux's Krewe of Underwear, marching through the French Quarter and Faubourg Marigny. This year's march was especially fun. I recommend getting involved in parading for Carnival if you never have. It's an experience you don't want to miss.
I wear a purple, green and gold outfit, and Zulu always responds to people who have nice costumes. I don't get any coconuts from the first few floats but after a while, I do real well. They respond very well to my purple, green and gold costume, and especially my very fancy headdress, worn for the first time this year. I had to expand or my girlfriend Sue did, the headdress, which originally was a little too small. Here I am on Jackson Avenue waiting for Zulu. Zulu is one of the great parades. It's very unique from beginning to end, and features a most unusual throw, the Zulu Coconut.
I'll be adding photos of my 5 coconuts later today when I pick them up from my friend's house on Prytania. I've got several bags of throws, garnered over the entire parade season.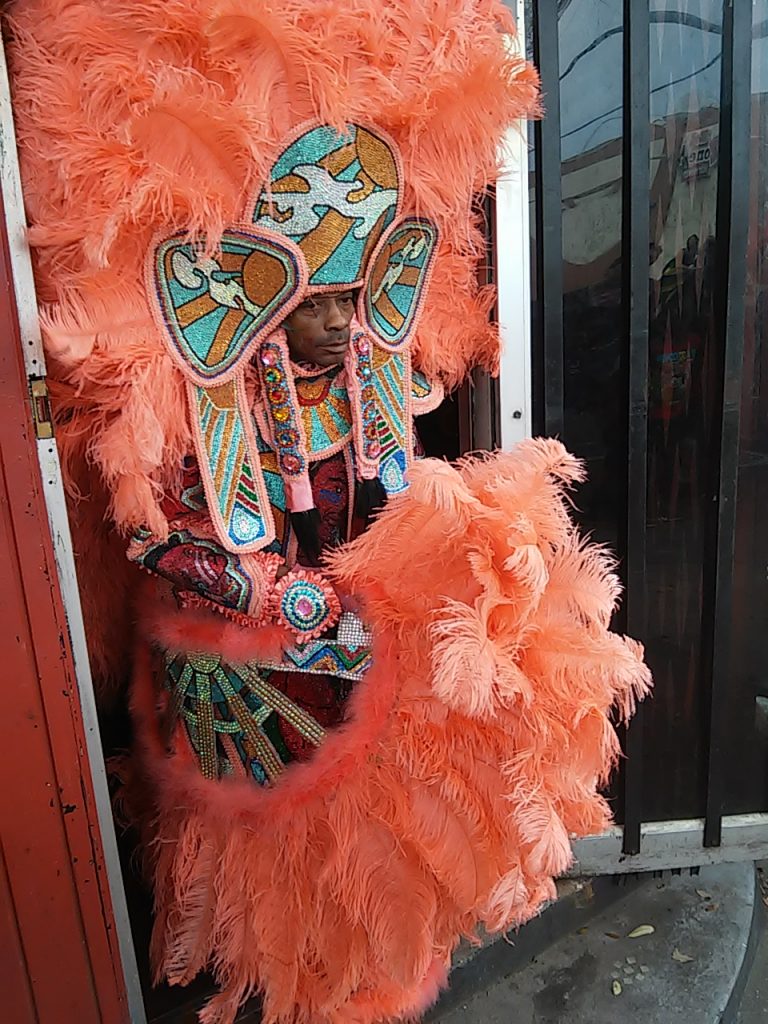 Beautifully Costumed Mardi Gras Indian
As I was walking from Zulu to Rex, I passed this gang of unbelievably colorful and decorative Mardi Gras Indians. The beauty and majesty of their single colored feather outfits is a marvel to behold. My good friend June Victory of June Victory and the Bayou Renegades helped me find them. They remain among the most beautiful sights on a Mardi Gras Day.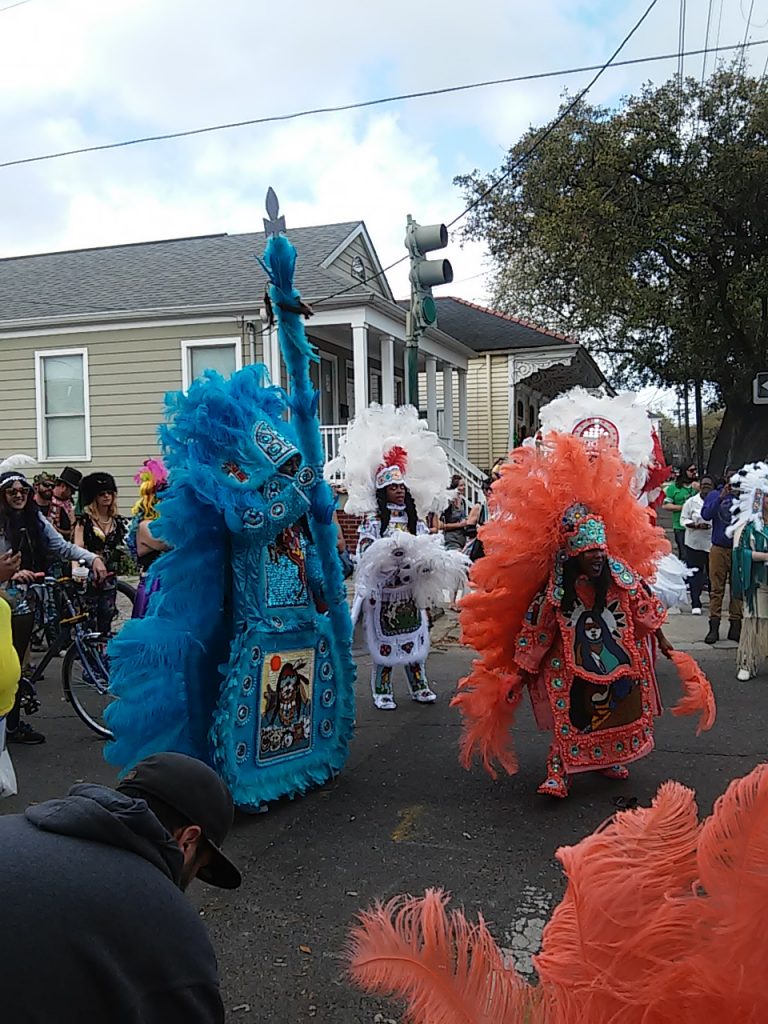 Mardi Gras Indians on a Mardi Gras Day
After REX I started heading home with another friend, Slogan. He walked with me through Central City and saw the Indian gang. He was very impressed, as I was. We finally split up after a couple of miles of walking, and eventually Sue picked me up at Galvez and Canal after hitting a lot of traffic on Broad due to the Zulu floats heading to the Zulu buildings on Broad.
For the last few years, my Fat Tuesday routine has changed a bit. Now I go out to eat in the late afternoon. Last year it was Mandina's. This year is was pizza and beer (for girlfriend Sue) at Theo's on North Carrollton.