Archive for
January, 2016
0
The 2016 edition of Krewe du Vieux (KdV) rolled in the French Quarter, Marigny and Central Business District last Saturday night at 6 pm before a large and adoring crowd. Many of the parade viewers wore a costume piece or two, showing their Mardi Gras enthusiasm on a cold, somewhat blustery night. New Orleans' own Queen of Bounce, Big Freedia, ruled as Krewe du Vieux Queen. Freedia is a hip-hop artist, reality TV star, and transgender rights advocate.
This year's parade was dedicated to two fallen titans of New Orleans culture, chef Paul Prudhomme and singer Frankie Ford. The seventeen sub-krewes each presented their own versions of the XXX theme. The subkrewes-  the Krewe of C.R.U.D.E, Krewe of Space Age Love, Krewe of Underwear, Seeds of Decline, Krewe of Mama Roux, Krewe of L.E.W.D., Krewe of Drips and Discharges, Krewe of K.A.O.S., Knights of Mondu, T.O.K.I.N., Krewe rue Bourbon, Krewe du C.R.A.P.S., Mystic Krewe of Spermes, Mystik Krewe of Comotose, Mystic Krewe of Inane, Krewe du Mishigas, and Krewe of SPANK.
Marching along with the Krewe of Underwear through the historic French Quarter and Marigny, with Egg Yolk Jubilee playing Mardi Gras tunes and other party classics like the Commodore's Brick House, life couldn't be finer. As I've written before, participating in a Mardi Gras parade as a rider/walker is a New Orleans experience not to be missed. Krewe du Vieux is unusual with all their mules and brass bands, no other krewe utilizes the roughly 20 mules and brass bands KdV does. Some floats (K.A.O.S) utilize a tricycle to move their float forward. What those krewes have against mules I don't know. Maybe they love mules so much they don't want to put them through the KdV experience. That's a question for another entry.
No studio is hired to produce the 20 odd KdV floats; volunteers from each sub-krewe are responsible for building their own. Each sub-krewe is allowed to interpret the main theme as they see fit. Over time, amateur float builders gain serious float building experience, so the floats get better and better over time.
For most Mardi Gras krewes, the pre-parade party, the parade, and the ball are glorified drinking opportunities. Many but not all krewe members drink throughout the entire 8-10 hour process. It's a daunting process but one of the most fun days of the year for most.
As an escort for Underwear, I'm not supposed to drink during the pre-parade party or the parade, and I don't. I find as I've gotten older, I do better with 3 hours of drinking than 10. Even though a double gin and tonic at the Civic during the ball was $14 plus tip, I ended up having a couple and supplementing that with some vodka I purchased at a little store outside the Civic before going in.
George Porter Jr and his Runnin' Pardners with special guests Walter Wolfman Washington and Billy Gibbons, guitarist and lead vocalist of ZZ Top, were somewhat generic in their song selection but still over the top fantastic.
The Civic had no food and a no outside food rule. That means one needed to find food somewhere off premises which wasn't that easy in my estimation. While I'm on the topic of food, the food at the Underwear pre-parade party, except for the homemade dessert I made, was entirely store bought fried chicken fingers, finger sandwiches, some powdered doughnuts and some Zapp's potato chips.
I personally took the time to make a beloved homemade dessert because I think the world of my krewe and want them to eat well and I was a bit disappointed at all the store bought food.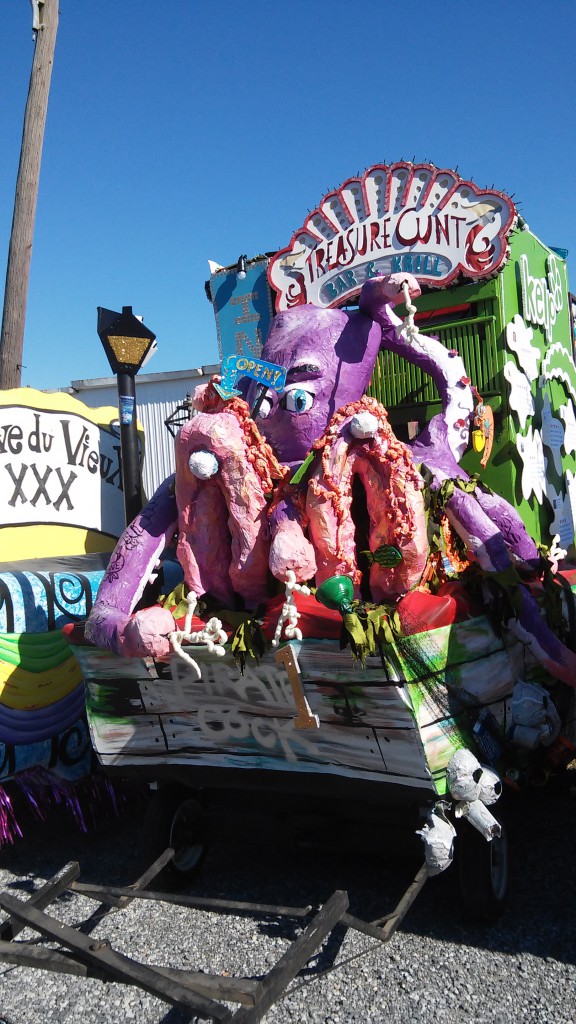 KdV 2016 Float 1