Posts tagged
Filled King Cakes
0
I remember when I moved to NOLA, only plain King Cakes were sold in a few bakeries, especially McKenzie's Bakeries around town. No groceries sold them. All King Cakes were plain. These were the dark ages of King Cakes. A number of years later, McKenzie's introduced the first filled King Cakes, and there was no looking back.  Now, every grocery and bakery in town wouldn't consider not selling King Cakes- they bring in shoppers.  New Orleanians cannot get enough King Cakes! We live in the enlightened age of King Cakes, with a zillion flavors available to anyone in the world with an internet connection.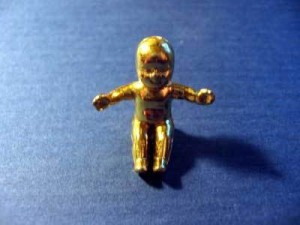 To show just how far filled King Cakes have come, here's the list from Rouse's Supermarkets current circular of the various fillings and flavors they sell:
Almond
Apple
Apple Cream Cheese
Bavarian Cream
Blueberry
Blueberry Cream Cheese
Caramel
Chocolate
Coconut
Cookies & Cream
Cream Cheese
Heavenly Hash
Lemon
Pecan
Pina Colada
Pineapple
Praline
Raspberry
Strawberry
Strawberry Cream Cheese
That's a lot of flavors, and even more exist. Pick a flavor, and someone makes and sells that flavored King Cake!
I conducted an unscientific poll among my facebook, twitter, myspace, and nola.com Mardi Gras forum 'friends'. The overwhelming choice of most for the best King Cake in the metro area is Haydel's Bakery first and Randazzo's second.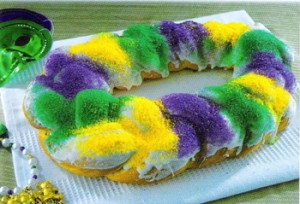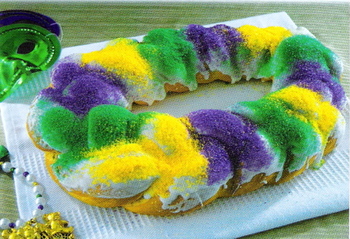 In the Christian faith, the coming of the wise men bearing gifts to the Christ Child is celebrated twelve days after Christmas. This is known as the Feast of the Epiphany or Little Christmas on the Twelfth Night. This is a time of celebration, exchanging gifts and feasting. Today, the tradition continues as people all over the world gather for festive Twelfth Night celebrations. A popular custom was and still is the baking of a special cake in honor of the three kings called a King's Cake.  In these early cakes, a pea, coin or bean was hidden inside the cake. Now, King Cakes contain a tiny plastic 'baby'. The person whose piece contains the baby has to throw the next King Cake party. King Cake parties are enjoyed by the young and old all over the region and the world via the internet.
0
Tomorrow is January 6, or Twelfth Night, the official kick off to the 2010 Mardi Gras Season. The first two events are on January 6- the Phunny Phorty Phellows ride a decorated St. Charles Streetcar from uptown to downtown. The Joan of Arc Parade walks throughout the French Quarter.
Phunny Phorty Phellows
Start/End: Willow Street at Carrollton Avenue, Uptown, 7 p.m.
A free event
The Phunny Phorty Phellows board the streetcar and began their ride to "Herarld the Arrival of Carnival" down the St. Charles Ave. Streetcar Line. The Phellows are an historic Mardi Gras organization that first took to the streets 1878 through 1898. They were known for their satirical parades and today's krewe members' costumes often reflect topical themes.
St. Joan of Arc Parade
Start: Decatur and Conti Streets, French Quarter, 6 p.m.
End: St. Philip and Decatur Streets, French Quarter
A free event
This second annual parade walks on Twelfth Night, Joan of Arc's birthday, in celebration of her story and the golden statue that graces the French Market at New Place de France. The post-parade party features free live music by Pierre Pichon and Marc Gunn beginning at 6:45 at The Market Cafe©, 1000 Decatur Street.
Route: Begin at Decatur & Conti Streets; up to Chartres, across Jackson Square, continuing on Chartres to St. Phillip, up to Joan of Arc statue at St. Philip and Decatur Streets in front of Market Cafe©
The Joan of Arc Fete was a one day festival celebrating the life and legacy of St. Joan of Arc, Maid of Orleans. The festival featured panel discussions, a free French class, songwriting and costume workshops, a silent auction, a cabaret-style arts showcase of Joan-related chamber music, original songs, and theater excerpts. The Festival ran on Sunday, January 3, 2010 from 10 am to 6 pm at the Bienville House Hotel, 320 Decatur Street in the French Quarter.
King Cake season arrives with Carnival, with local bakeries and groceries selling their version of King Cakes, many of them filled. Varieties include cinnamon, strawberry, cream cheese, blueberry,
lemon, pecan praline, apple, raspberry, plain, and many, many more flavors. King Cakes are shipping around the world, some with Mardi Gras packages including beads & doubloons; purple, green and gold decorations; and masks.