Posts tagged
12th Night
0
by NewOrleansMusicMan
in
BCS Championship Bowl
,
Carnival
,
Carnival New Orleans
,
French Quarter
,
Krewe de Jeanne d'arc
,
Louisiana State University
,
LSU Tigers
,
Mardi Gras
,
Mardi Gras Music
,
Mardi Gras parade
,
Music
,
New Orleans Carnival
,
New Orleans Saints
,
Orleans Parish
,
Phunny Phorty Phellows
,
Super Bowl Champion New Orleans Saints
This is the biggest 12th night weekend in the history of NOLA, there's no doubt about that. 12th night is always a bit of a big deal, it's the true launch of the Carnival Season. Add the Saints big playoff game against Detroit tomorrow and the HUGE BCS Championship Bowl on Monday in the Super dome featuring #1 undefeated LSU against #2 AL, with 1 loss against LSU 9-6.
That makes this weekend the biggest 12th night in memory!! We are not done with the huge night, the Phunny Phorty Phellows are New Orleans only St. Charles Streetcar based parade.
Add to this the next parade, the 45-member Krewe de Jeanne D'Arc parade  rides and strolls in its fourth annual parade to honor the Catholic saint.
THIS YEAR JOAN AND HER SWORD WILL BE BLESSED IN FRONT OF ST LOUIS CATHEDRAL BY MONSIGNOR KERN AT APPROXIMATELY 6:15 P.M.
CITY PROCLAMATION ISSUED BY KRISTIN GISLESON PALMER'S OFFICE WILL BE READ BY AN ACTOR PORTRAYING THE FOUNDER OF NEW ORLEANS, JEAN-BAPTISTE LE MOYNE, SIEUR DE BIENVILLE, BEFORE THE PARADE DEPARTS
SIX JOANS ON HORSEBACK:   OUR MAID OF HONOR, OUR WARRIOR JOAN, OUR "JOANIE ON THE PONY" PORTRAYED BY KRISTIN GISLESON PALMER, AND THREE ADDITIONAL JOANS ON WHITE HORSES WILL HONOR JOAN'S 600TH YEAR!
KING CAKE CEREMONY FOLLOWING THE PARADE WITH SPEECHES IN FRENCH AND ENGLISH BY KREWE KING DAMIEN REGNARD AND KREWE MAID AGGIE BELL AND KING CAKE DONATED BY SUCRE (BUT AS ALWAYS, THE PUBLIC IS ENCOURAGED TO BRING KING CAKES TO EAT AND SHARE!)
The 4th installment of the 2012 Mardi Gras Forecast will be forthcoming in the next few days, after the super exciting weekend!
0
I remember when I moved to NOLA, only plain King Cakes were sold in a few bakeries, especially McKenzie's Bakeries around town. No groceries sold them. All King Cakes were plain. These were the dark ages of King Cakes. A number of years later, McKenzie's introduced the first filled King Cakes, and there was no looking back.  Now, every grocery and bakery in town wouldn't consider not selling King Cakes- they bring in shoppers.  New Orleanians cannot get enough King Cakes! We live in the enlightened age of King Cakes, with a zillion flavors available to anyone in the world with an internet connection.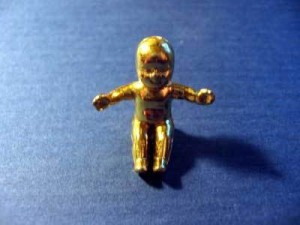 To show just how far filled King Cakes have come, here's the list from Rouse's Supermarkets current circular of the various fillings and flavors they sell:
Almond
Apple
Apple Cream Cheese
Bavarian Cream
Blueberry
Blueberry Cream Cheese
Caramel
Chocolate
Coconut
Cookies & Cream
Cream Cheese
Heavenly Hash
Lemon
Pecan
Pina Colada
Pineapple
Praline
Raspberry
Strawberry
Strawberry Cream Cheese
That's a lot of flavors, and even more exist. Pick a flavor, and someone makes and sells that flavored King Cake!
I conducted an unscientific poll among my facebook, twitter, myspace, and nola.com Mardi Gras forum 'friends'. The overwhelming choice of most for the best King Cake in the metro area is Haydel's Bakery first and Randazzo's second.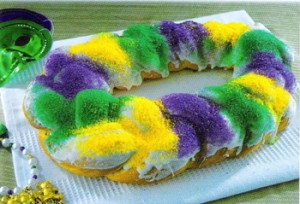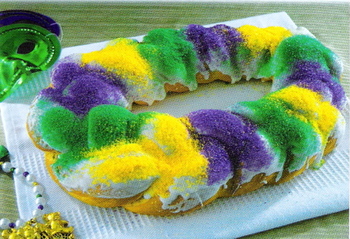 In the Christian faith, the coming of the wise men bearing gifts to the Christ Child is celebrated twelve days after Christmas. This is known as the Feast of the Epiphany or Little Christmas on the Twelfth Night. This is a time of celebration, exchanging gifts and feasting. Today, the tradition continues as people all over the world gather for festive Twelfth Night celebrations. A popular custom was and still is the baking of a special cake in honor of the three kings called a King's Cake.  In these early cakes, a pea, coin or bean was hidden inside the cake. Now, King Cakes contain a tiny plastic 'baby'. The person whose piece contains the baby has to throw the next King Cake party. King Cake parties are enjoyed by the young and old all over the region and the world via the internet.