Posts tagged
Nyx
0
We're in the lull now, the two days before the 5 days of all out parades, parties and Carnival revelry. Had a great time at the parades this past weekend, and caught some cool throws.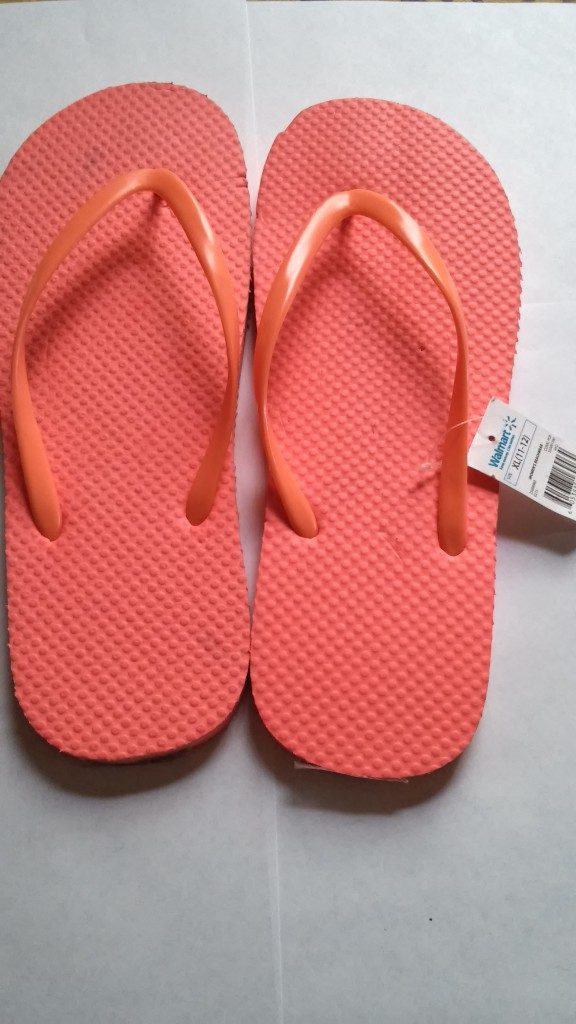 Thongs Throw! Weird Throw!
Parades start again tomorrow with Druids and NYX. NYX has worked hard to establish their own icon throw, similar to the Krewe of Muses Shoe and the Zulu Coconut. The NYX Purse is a hand decorated purse or small hand bag. Their krewe has grown substantially the last few year as their parade presence has grown. Looking forward to their parade tomorrow night.
Working on my purple, green and gold costume for Fat Tuesday. Always celebrate Fat Tuesday in the official colors of Mardi Gras. Though Blaine Kern Artists remain the largest of the float builders, Royal Artists is my personal favorite. I catch Zulu on Jackson Avenue, then head to Harmony and St. Charles for REX. After REX I follow the truck parades downtown, and meet my girlfriend Sue Repasky. We ate at Mandina's later that afternoon, and it was very good.
I've been in New Orleans for a long time, now, and I'm excited about Mardi Gras like I was brand new to it. There is something about the combination of bands, floats, crowds, ambiance, friends, family, and tradition that makes me very happy.Happy Mardi Gras!
0
The past year has seen a few upheavals in the topsy turvy world of Carnival. Blaine Kern Sr was knocked out of action by his son in the Louisiana Court of Appeals, you can thank Sr's new bride for much of Mr Mardi Gras' problems.
It doesn't appear that any of the Kern's major Mardi Gras float building accounts have moved on. Rex, Bacchus, Orpheus, Muses, Alla, Endymion are all built by Kern enterprises for decades.
Jefferson Parish began the slow process of upgrading their parades. This is a very good idea, as their parades had slid considerably since Hurricane Katrina in 2005.
For 2012, Gretna loses their most historic Mardi Gras Day parade, Grela, the West Bank's only local celebration on Fat Tuesday.
Gretna stopped funding Mardi Gras in April when officials had to choose between paying for Mardi Gras activities and giving money to the Gretna Heritage Festival.
Yes, Gretna Fest has grown into a really nice festival, but Grela is Jefferson Parish's oldest Carnival krewe. Gretna Fest has a huge budget with the dozens of bands that play the several day festival. They have corporate funding, charge a cover charge to enter the Festival, and sell a lot of food, drinks, and beer. They certainly could have covered the $30,000 much much easier than Grela could, and this is an obvious fact the Council should have seen a mile off.
Therefore, a Carnival Jeer goes out to the Gretna City Council for backing the total wrong horse with this poor decision in April 2011. The krewe was founded in 1947 as a men's club, but it changed its name to Grela, an acronym for Gretna, La.
Earlier this year Rhea, another Jefferson Parish krewe, called it quits. Rhea was formed in 1969, making this parade over 40 years old! It began as an all woman parade, but became coed in later years. Rhea was the first Jefferson parade to roll down Veterans Boulevard, and the one of the few Jefferson parades to hold their ball in the Municipal Auditorium in New Orleans.
One relatively new, local, and all male marching group, the 610 Stompers, marched in the Macy's Thanksgiving Day Parade in New York City. Wow! The Stompers' over the top dance routines flabbergasted Matt Lauer and Al Roker, it was a real New Orleans moment in New York City on national TV. They also appeared on the Hoda & Kathie Lee Show. That's a lot of national attention for our homegrown group, and it's well deserved!
From whereyat.com's article on the Stompers-
What makes these men so special is not only their uncanny ability to entertain crowds, but also the motivation behind the uniforms. What started as a plan to start an all male dance school to help pay for their Saints season tickets in their namesake section 610, has turned into an incredible medium to have fun while help others. Underneath those mustaches of manliness lie men with hearts larger than most. Since their formation in 2009, the 610 Stompers have raised and donated over $100,000 to charity. They were asked to be this year's "Corporate Chair" of the Light the Night Walk for the Leukemia and Lymphoma Society of Louisiana and Mississippi, released a Stomp Out Breast Cancer video with Touro Infirmary, and have partnered with over 13 local and national foundations where their dance moves have helped those less fortunate. They have mastered having fun with making a difference. At this year's 610 Ball they gave $610 to each of over 20 local charities, which at first glance doesn't seem like a lot. However, these grants more often doubled the charities' operating budgets making a profound impact on our citizens and local community.
The first new full-fledged Carnival parade in Orleans Parish since before Hurricane Katrina, Nyx won approval from the City Council on a 6-0 vote to amend the 2012 calendar and schedule Nyx after the Druids parade on the Uptown route the Wednesday before Mardi Gras.
The city's last new parading krewe was Morpheus in 2002, a year after Muses and the Knights of Chaos made their debuts.
From their web site:
"Three native New Orleans women always loved the traditions, pageantry, and fun of Mardi Gras. For years they admired the floats and loved the bands. They enjoyed how much the kids' faces would light up when they caught stuffed or beaded treasures. The women adored how the crowds screamed to the riders  "Throw me something!"
2012 forecast will continue with part 3 in the near future.