Posts tagged
Gold
0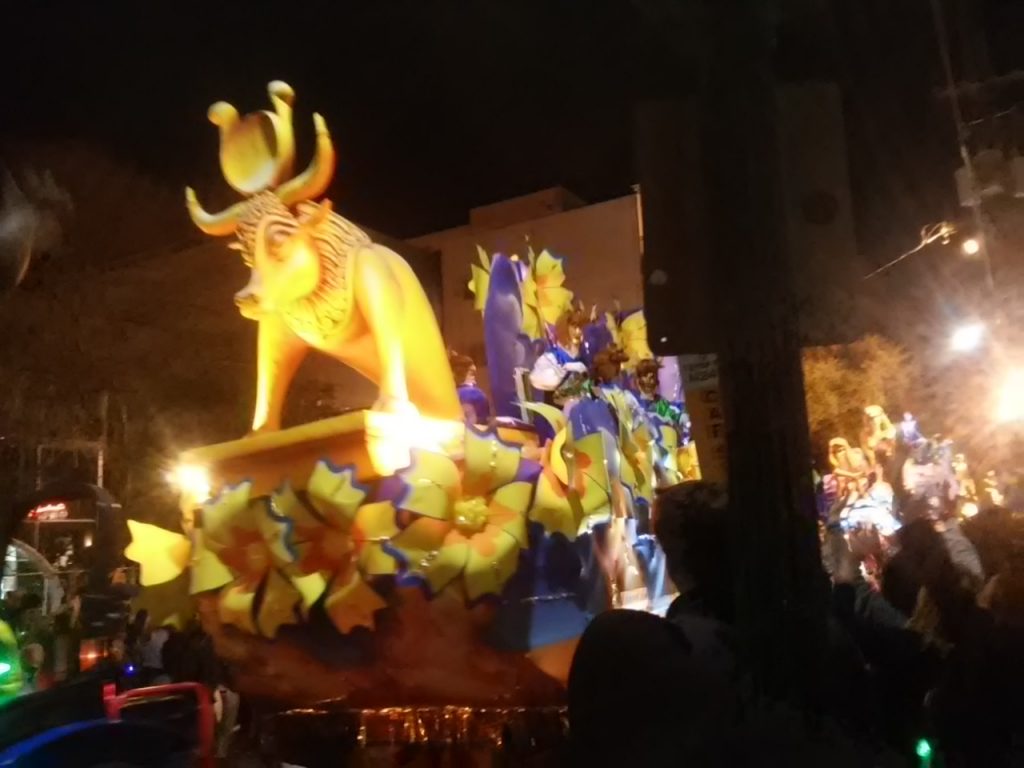 The Knights of Babylon ran last night, a beautiful evening for Carnival 2017 parading. Babylon was originally called the Jesters Club. St. Charles was packed with parade goers, of all shapes, ages and sizes. We had moved our location from Harmony Street to St. Andrews St, Neutral ground side. Babylon's theme for 2017 was The Lure and Legends of Gold. Babylon started in 1939, so they are among the top 5 oldest New Orleans krewes. That's tradition. As they were rolling down St. Charles, I could tell they weren't all old men, but a cross section of ages. Their floats are of traditional size.
Babylon had a bunch of light up throws, including a light up streetcar light up medallion, a purple bearded man light up bead, and a plastic fake wrist band that states on the plastic dial,  Carnival Begins When Babylon Rolls.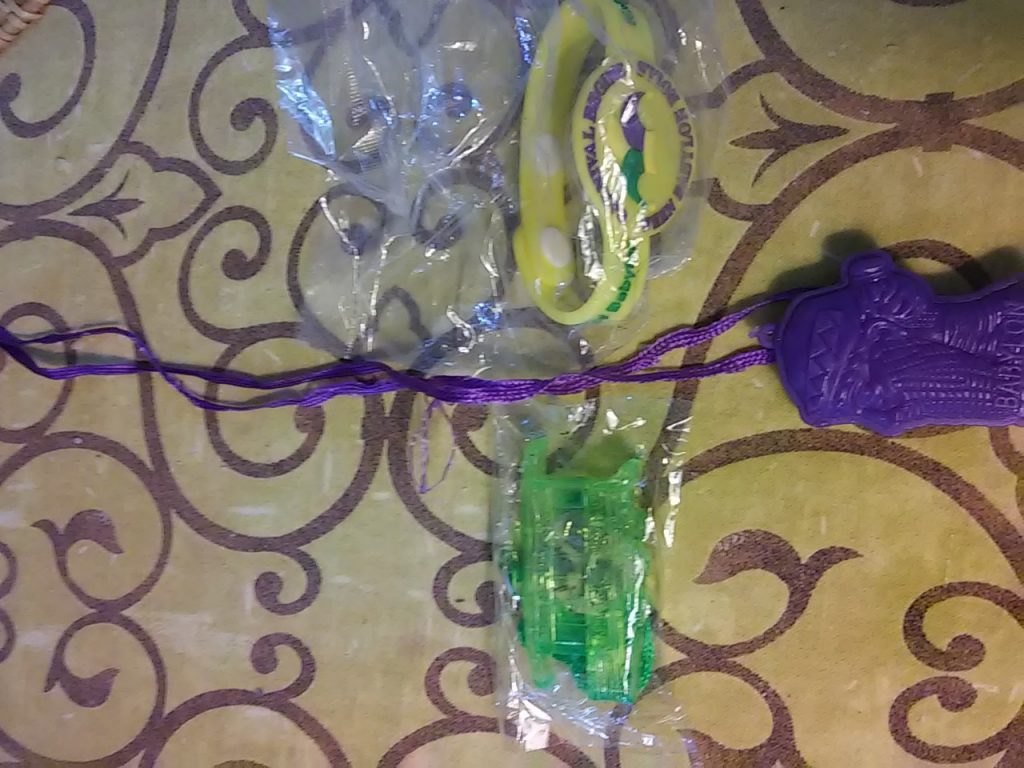 Light Up Babylon Throws
All three parades occupy different niches in the Mardi Gras Orleans Parish Parade hierarchy. Babylon is from the old guard. Chaos is a combination of the new and the old, a unique niche, and Muses are the founders of the women's super krewe niche that now has other players including NYX.
While Babylon is an old fashioned parade, Chaos is even more old fashioned. They ride on wooden wagon wheels, like REX and Proteus (see photo). That's because Chaos membership is comprised of former Knights of Momus members. Comus and Momus stopped parading decades ago when the political climate for closed all white men's clubs went south. The Chaos float den is the former Momus den. They threw float specific cards, doubloons, light up swords and other mostly traditional throws.
Muses is one of Carnival's largest parades with well over 1,000 krewe members. They are named after the Muses in mythology. They have changed Mardi Gras for the good with their too many to mention sexy, ribalt dancing groups; they broke a Carnival glass ceiling as the first true all women Super Krewe; and their hand decorated Muses shoes have quickly become a key Mardi Gras signature throw.
Muses were founded in 2000 by Staci Rosenberg, and first paraded during Mardi Gras in 2001. Every year, Muses produces an awesome variety of logoed throws. The krewe is very limited in what else they can purchase outside the krewe and without the Muses logo.